Cosmetic Dentistry Returns the Youthful Smiles of Melbourne Patients
At the cosmetic dentistry practice of Dr. Lisa Goff, we want our patients to have beautiful, youthful smiles. At our spa-like office, we offer a relaxing environment in which to perform your cosmetic dentistry and facial rejuvenation treatments.
Did you know smiling is vital to your overall health? Having a beautiful, bright smile not only improves your appearance, but contributes to your positive mental and physical health. Smiles connect us to our friends, families, and co-workers. And smiling not only improves our moods, but can also improve the moods of others. Research has shown that people who are generally happy and smile often live ten years longer. And if you have a gorgeous, healthy, and youthful smile … you'll use it a lot! We'll use all our cosmetic dentistry expertise to give you a smile you'll be proud to share with others.
Need a smile lift? Then trust cosmetic dentistry professional Dr. Lisa Goff to revitalize the youth and beauty of your smile. With cosmetic dentistry, we can close gaps, fix broken and fractured teeth, whiten stained enamel, and replace missing teeth. Teeth whitening and porcelain veneers are two cosmetic dentistry options that will improve your smile. To add to the youthfulness of your gorgeous grin, we also offer facial rejuvenation.
Related Cosmetic Dentistry Articles
Cosmetic Dentistry – A Time For Change
Join us as we review the myriad of possibilities available to you for cosmetic dental change. But the biggest part is not just how your smile looks, it's how you feel when you show it... Read Article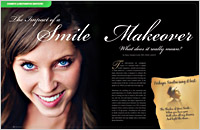 The Impact of a Smile Makeover
Americans are catching on to the emotional and social importance of a healthy, beautiful smile, and they're seeking out ways to improve their smiles. Learn why and what a change could mean for you... Read Article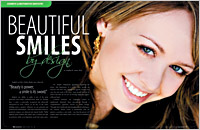 Beautiful Smiles by Design
The first in a series of articles dedicated to the "art and science" of designing a more appealing smile. One of the country's foremost leaders in cosmetic dentistry discusses how you and your dentist partner to create a great new look... Read Article
How And Why Teeth Wear
Are teeth supposed to last for a lifetime? And are humans designed to live for up to a hundred years? Given all the current improvements in the areas of medicine and health, both general and oral, people are not only living longer, but they are also keeping their teeth longer. This article will provide an overview of the "oral system" and one of its more common and important occurrences, tooth wear... Read Article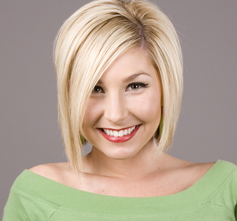 At the office of Dr. Lisa Goff, we provide state-of-the-art general, cosmetic, and restorative dentistry options for Florida patients. We serve Melbourne, Rockledge, Cocoa Beach, Palm Bay, and surrounding communities. Let us give you back your youthful smile! Book your appointment today!