Brightening Melbourne Smiles with Teeth Whitening Services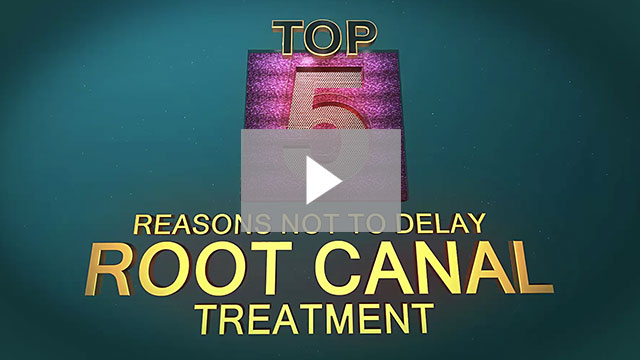 Enamel is so porous that it will absorb pigments, react to acids, and respond to extreme temperatures by expanding and contracting. That's why smoking, taking certain antibiotics, and plaque can all contribute to the yellowing of your teeth. You may also have a less-than-bright smile due to eating staining foods such as berries, chocolate, and beets. And the tannins in certain beverages—coffee, wine, fruit juice—can also contribute to the darkening of your enamel. Aging, genetics, and dental trauma may also be reasons you have a dull smile.
At the office of Dr. Lisa Goff, we want to give you back your youthful smile. One simple way to add beauty is to whiten your enamel. We offer two options for teeth whitening. You can make an appointment for the chairside Zoom! teeth whitening service. It takes only one dental visit to get a smile up to eight shades whiter! We also offer teeth whitening kits that you can take home. With the customized molds and the professional-grade bleaching gel, your smile will become brighter in two weeks or less.
For our Melbourne cosmetic dentistry patients, the experts at Dr. Lisa Goff's dental practice want to give you the smile you deserve. And don't forget to check out our facial rejuvenation services to add the finishing touches to your youthful smile!
Related Teeth Whitening Articles
Teeth Whitening – Brighter, lighter, whiter...
The subconscious impact of a white smile is radiant health, happiness, warmth and invitation. This phenomenon has been reinforced with the spread of American culture worldwide, where an especially white smile has even been coined a "Hollywood smile." Today brighter, lighter, whiter teeth have become a norm. Tooth whitening by bleaching is a successful, conservative, relatively inexpensive and safe alternative... Read Article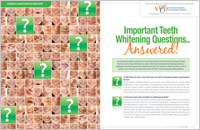 Important Teeth Whitening Questions Answered!
In Dear Doctor's interview with nationally noted teeth-whitening expert Dr. Van B. Haywood, he answers questions about bleaching techniques and safety in achieving the best possible results. If you are thinking about getting your teeth whitened at your dentist's office or doing it yourself at home, this is a must-read... Read Article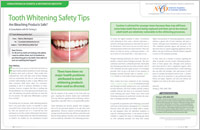 Tooth Whitening Safety Tips
There have been no major health problems attributed to tooth whitening products when used as directed. Many studies have confirmed this, and we will share some of these findings with you... Read Article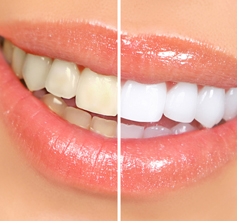 At the office of Dr. Lisa Goff, we provide state-of-the-art general, cosmetic, and restorative dentistry options for Florida patients. We serve Melbourne, Rockledge, Cocoa Beach, Palm Bay, and surrounding communities. Let us give you back your youthful smile! Book your appointment today!