Porcelain Veneers Returns Beauty and Youth to Melbourne Smiles
If your teeth are damaged or decayed, then Dr. Lisa Goff can use her expertise in cosmetic and restorative dentistry to give you back your youthful smile. If you have multiple issues with your teeth, such as fractures, stains, traumas, gaps, misalignments, and irregular shapes, don't worry!
At our dental office, we can beautify your smile with just one procedure: porcelain veneers. What are porcelain veneers? Porcelain veneers are wafer-thin shells which are bonded permanently to your natural teeth. Each veneer is crafted to individual specifications of size, shape, and color. Porcelain veneers correct a bevy of cosmetic dentistry issues—and it takes only two dental visits to complete the procedure.
There are many benefits of porcelain veneers. They look, function, and feel like real teeth. And with the proper care, porcelain veneers can last a lifetime. Other features of porcelain veneers include:
Naturally reflects light
Durability
Complete functionality
Resistant to yellowing and staining
Non-irritating to gingiva
We can give you a smile lift with porcelain veneers—and our facial rejuvenation services.
Related Porcelain Veneer Articles
Smile Design Enhanced with Porcelain Veneers
In part two of the series on Smile Design, Dear Doctor takes an in-depth look at Porcelain Veneers, a superior yet minimally invasive technique for smile enhancement. We'll explain not only when they're appropriate, but also when they're not... Read Article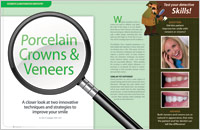 Porcelain Crowns & Veneers
A closer look at two innovative techniques and strategies to improve your smile. In many instances these two restorative techniques can produce nearly identical esthetic results, even though they are structurally different... Read Article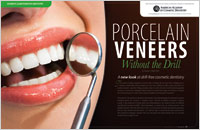 Porcelain Veneers – Without A Drill
No drilling — reality or ridiculous? A no-drill technique requires a second look, as new materials and concepts have created new esthetic possibilities. Reactions and opinions among dentists have ranged from absolute disbelief to moderate acceptance. This article gives hope and reasons for patients to get excited about this conservative drill-free cosmetic technique... Read Article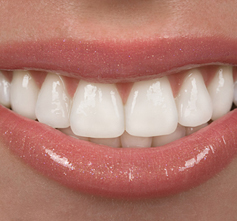 At the office of Dr. Lisa Goff, we provide state-of-the-art general, cosmetic, and restorative dentistry options for Florida patients. We serve Melbourne, Rockledge, Cocoa Beach, Palm Bay, and surrounding communities. Let us give you back your youthful smile! Book your appointment today!