Giving Melbourne Patients a Reason to Smile with Restorative Dentistry
At our cozy, relaxing office, you'll find courteous professionals who strive to create a pleasant experience at Dr. Lisa Goff's restorative dentistry practice.
With our restorative dentistry options, we can revitalize your oral health while also ensuring the youth and beauty of your smile. We want you to enjoy anxiety-free dentistry, which is why we've created a spa-like environment with the latest in technology and the best in amenities.
We offer the following restorative dentistry services:
Crowns
Fillings
Full-Mouth Reconstructions
Root Canals
Crown and Bridge
Dentures and Partials
Extractions
For patients who have a number of dental issues, Dr. Lisa Goff may recommend a full-mouth reconstruction that may include cosmetic, general, and restorative dentistry solutions. The goal behind full-mouth reconstructions, and all dental procedures, is to restore health and function to your teeth as well as add beauty to your smile.
Related Restorative Dentistry Articles
The Natural Beauty of Tooth Colored Fillings
The public's demand for aesthetic tooth colored (metal free) restorations (fillings) together with the dental profession's desire to preserve as much natural tooth structure as possible, has led to the development of special "adhesive" tooth colored restorations... Read Article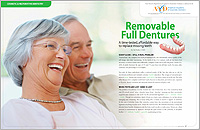 Removable Full Dentures
Complete tooth loss can cause a host of health problems, including malnutrition and bone loss. Though fixed bridgework may hold a higher place of reverence when it comes to replacing an entire set of teeth, removable full dentures can provide an elegant solution that is significantly more affordable... Read Article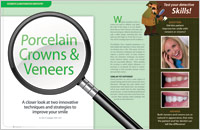 Porcelain Crowns & Veneers
A closer look at two innovative techniques and strategies to improve your smile. In many instances these two restorative techniques can produce nearly identical esthetic results, even though they are structurally different... Read Article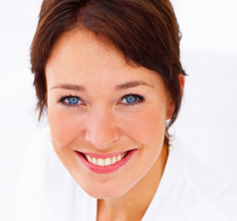 At the office of Dr. Lisa Goff, we provide state-of-the-art general, cosmetic, and restorative dentistry options for Florida patients. We serve Melbourne, Rockledge, Cocoa Beach, Palm Bay, and surrounding communities. Let us give you back your youthful smile! Book your appointment today!