Invisalign
Your smile can speak to others. But if you're hiding it because of misaligned teeth, it may not be saying what you want it to. That's why Dr. Lisa Goff of Melbourne, FL offers a cosmetic dentistry service like Invisalign clear braces. A great service like Invisalign helps adults with misaligned teeth achieve the straight, confident smile they've always wanted without the brackets and wires of traditional braces.
The Invisalign Difference
Invisalign clear braces are an FDA-approved solution for helping adults straighten their teeth discreetly. Over the course of 12-18 months, Invisalign will bring your teeth into alignment comfortably, with nothing to tighten and fewer interruptions to your busy schedule.
That's because Invisalign uses a series of clear, removable aligners instead of brackets and wires. These aligners make treatment more convenient and more comfortable. You'll wear one for about two weeks before moving on to the next in your treatment kit, with each bringing your teeth closer to their final position. What's more, you can remove your aligners daily for eating, brushing, and flossing.
How does this change your treatment?
It lets you enjoy the same diet you enjoyed before your treatment began. Certain foods can be difficult to eat with traditional braces, but with Invisalign there aren't any limits to what you can enjoy. Keeping your smile clean is also easier. Traditional braces make it difficult to thoroughly brush and floss. But with Invisalign, you can brush and floss like you would without braces, giving your smile extra protection from cavities and gum disease.
A Precise Plan for a New Smile
As your Invisalign dentist in Melbourne, FL, Dr. Goff will create a precise plan that accounts for every step of your orthodontic treatment. Plus, with this careful planning, Dr. Goff will know what your results will look like before your treatment even begins. That allows us to give you a clear picture of the stunning results you can look forward to afterwards.
Related Clear Orthodontic Aligner Articles
Clear Orthodontic Aligners
The orthodontic treatment using clear aligners consists of a series of aligners that you change about every two weeks over a course of treatment lasting six to eighteen months depending on how much movement is needed... Read Article
Clear Aligners for Teenagers
Teens who regard traditional braces as restrictive, confining, and obstructive to their lifestyles now have another choice for orthodontic treatment: clear aligners. This advanced dental technology, originally geared toward adults, has recently evolved to treat a greater variety of bite problems in younger people. These improved orthodontic appliances can help teens function normally during a difficult phase of life... Read Article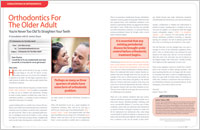 Orthodontics for the Older Adult
Healthy teeth can be moved at any age, so there's no such thing as "too old" for braces. In fact, nowadays about one out of every five orthodontic patients is an adult. Yet this figure represents only a small portion of adults who could actually benefit from orthodontic treatment... Read Article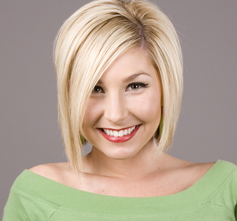 At the office of Dr. Lisa Goff, we provide state-of-the-art general, cosmetic, and restorative dentistry options for Florida patients. We serve Melbourne, Rockledge, Cocoa Beach, Palm Bay, and surrounding communities. Let us give you back your youthful smile! Book your appointment today!